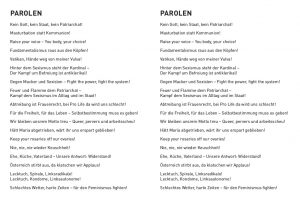 Kein Gott, kein Staat, kein Patriarchat!
Masturbation statt Kommunion!
Raise your voice – You body, your choice!
Fundamentalismus raus aus den Köpfen!
Vatikan, Hände weg von meiner Vulva!
Hinter dem Sexismus steht der Kardinal – Der Kampf um Befreiung ist antiklerikal!
Gegen Macker und Sexisten – Fight the power, fight the system!
Feuer und Flamme dem Patriarchat – Kampf dem Sexismus im Alltag und im Staat!
Abtreibung ist Frauenrecht, bei Pro Life da wird uns schlecht!
Für die Freiheit, für das Leben – Selbstbestimmung muss es geben!
Wir bleiben unsrem Motto treu – Queer, pervers und arbeitsscheu!
Hätt Maria abgetrieben, wärt ihr uns erspart geblieben!
Keep your rosaries off our ovaries!
Nie, nie, nie wieder Keuschheit!
Ehe, Küche, Vaterland – Unsere Antwort: Widerstand!
Lecktuch, Spirale, Linksradikale! Lecktuch, Kondome, Linksautonome!
Schlechtes Wetter, harte Zeiten – für den Feminismus fighten!